Nedaca @ Home
Do you wish to learn Dutch or another language but are unable or unwilling to travel back and forth to attend a course? Have you already tried one or more online language course sites or platforms but unfortunately did not get the results you were looking for? With the new distance learning platform of the Nederlandse Academie, Nedaca@home, you can take a giant step into the future of language learning with just a few clicks. We have succeeded in translating the efficiency of our courses into formulas that are especially designed to meet the ever-changing needs of our students and modern society.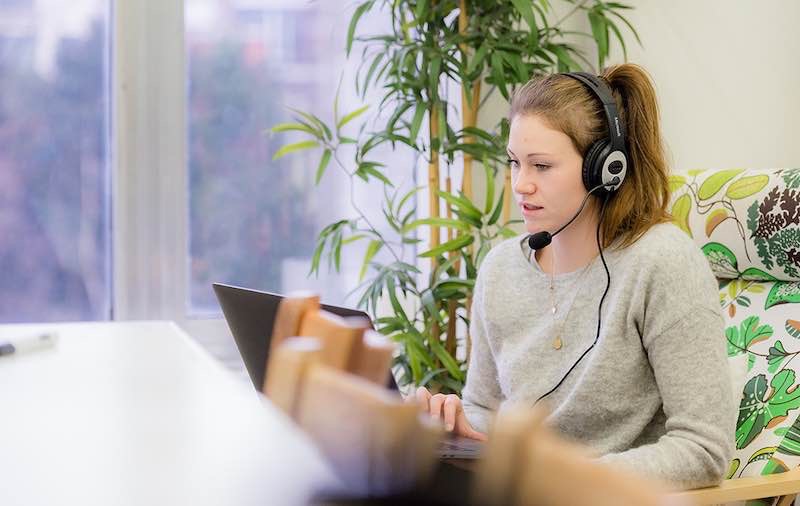 In this way, you don't learn a language alone in front of your smartphone or computer, but with an enthusiastic trainer, while following a fun and motivating course.
Whether you're at home in the comfort of your own home, stuck in your chair at work between business meetings or even travelling abroad, our online courses will give you the opportunity to continue learning the language of your choice.
Our new digital and intuitive platform offers a 100% interactive and resolutely modern approach to distance learning language courses, and is based on three main principles:
The organisation of simple and user-friendly virtual classes with the same spirit as those taking place in the classroom
Constant individualised remote monitoring of learners' progress and course history
Permanent access to educational resources and dedicated exercises
Video conference language training
We guarantee you the same efficiency as our traditional courses held in our premises in Brussels. Our specifically trained distance learning instructors have adapted our Forcing methodology, which allows you to learn Dutch quickly, in real virtual classes held via video conference. Our teachers are committed to creating a motivating and enjoyable working environment.
Students will have the opportunity to interact instantly with their instructor or with other participants throughout the session, just as they would in a face-to-face class. All the tools necessary for language learning and interactivity in a classroom setting have been transferred to the online version. For example, you will have the opportunity to find the traditional whiteboard in its virtual version as well as the sharing of audio/video material. In addition to this, our new digital platform allows all participants to interact and ask their question(s) live via a chatroom accessible throughout the course. The system also allows, with the participants' agreement, to record the sessions and to listen to them again afterwards.
This system of distance learning language courses, which improves exchanges and sharing during the course, has been designed to be as easy to use as possible and is therefore suitable for those new to technology. All you need to do is click on the course invitation that you will receive by email and follow the login instructions.
An individualised follow-up tool
Whether it is distance or face-to-face learning, our school offers all its students tailor-made courses always adapted to their needs or expectations. The strictest supervision over these courses is always assured during our sessions by our qualified and experienced native teachers.
At the beginning of your course, you will receive access to an online application shared with your teacher. Your teacher will monitor your progress and report regularly on your progress in an online form that displays your individual progress in a clear and structured way. In this way, certain courses can be adapted according to your progress and difficulties. You will also have the opportunity to share your suggestions and opinions on the quality and experience of the courses you have enjoyed during your sessions with our teachers.
This tool is particularly useful for monitoring language courses in companies. It allows course managers to receive regular summaries of the progress, involvement and success of participants. It is therefore an excellent way for companies offering courses to their employees or associates to ensure their progress and motivation.
Practice online whenever and wherever you want
With your schedule and the unforeseen events that we all experience in our daily lives, it is not always easy to find the right amount of time to practise a language outside of the classroom. However, this is absolutely necessary in order to ensure rapid and continuous progress during your course.
Our online platform is here to help you practice regularly and to make your life easier. No more loose sheets of paper and course exercises left at home. With your access codes, you can connect to our online platform whenever you want to find various exercises classified by theme and level. These exercises, which are regularly updated, will be suggested by your teacher in order to prepare your next lesson. In addition to reviewing certain language rules (grammar, conjugation, etc.) and expanding your vocabulary, you will also have the opportunity to practice your listening comprehension and develop your analytical skills in the target language.
Make progress in record time
The quality of the Nederlandse Academie's language courses is now available via distance learning. You are free to choose to follow some of your course sessions on the premises of our school or to participate in real virtual classes accessible via our new Nedaca@home platform. No need to lose your temper driving through Brussels at rush hour to attend your evening classes or individual classes scheduled during your break. By saving time, learners and teachers arrive calm and relaxed for an even more efficient and enjoyable course session. All you need is internet access, a smartphone or computer and a webcam.
You can now take advantage of our various one-to-one lessons in different languages or group lessons in Dutch via your webcam. Take a look at all of our online course offers and their start dates.
With these new online courses, your personal or professional constraints are no longer an obstacle to your learning. So, are you ready to join us and develop your skills in a new language?
Do not hesitate to consult our numerous available distance language courses or to contact our team for any request for information. We will be happy to answer your questions and help you choose the course that best suits your objectives.